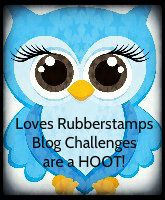 Hello and welcome to the Loves Rubberstamps Tuesday Challenge! Hope everyone is having a great week. It was nice to have the extra holiday but gosh, this weekend went by way too fast. Did it fly by for you? October itself felt like a blur and now I'm bracing myself for the next few months which are going to be busy busy!!!
Anyways, enough of my rambling and on to our challenge....This week we have a fun one which is "Black and White" or "Sepia"!
So I don't really have the copic colors for Sepia (that I know of anyways! :)) and decided to go with Black and White. Also, I never really thought to use this cute Gorjuss Girls image called "I Gave You My Heart". I have always loved these Gorjuss stamps and had just purchased a few sets from the store. But when I took her out, I really wanted to create something with her and now I am so happy I decided to use her in this "Black and White" challenge because she is so adorable! Now I did decide to add a pop of light pink which I added with my Copic Sketch markers in Tea Rose to her cheeks. The rest of her is colored using the cool grays. I also used some Spun Sugar in distress inks to edge the papers and also the distress stickles to the centers of my white flowers and the heart on the paper she is holding. I think it really looks so pretty to have the pop of color against the black and white!

The pretty papers I used for this project are from a collection called "

Meadow Lark" by My Mind's Eye. Really pretty double-sided black and white papers. I used these papers also for the layered Spellbinders called "

Labels Eight" behind this cute girl. The flowers are a combo from Prima (The Printery Collection) and some white Recollections flowers. The pearl spray is something I had in my stash. The sentiment "You'll be in My Heart" is from a random stamp set I had in my stash.
Here are some additional supplies I used on my card:
Please check out the Loves Rubberstamps store to see supplies used on my card. Also, check out the Loves Rubberstamps Challenge blog to see what other projects the rest of the Design Team made. If you want to join this fun challenge, I'll post the details below and you could have a chance to win some great prizes form the store!
Hope you all like my black and white card! Have a wonderful week and thanks so much for stopping by to visit! :)
This week's challenge is:
Black & White or Sepia
Coloring Challenge!
You have a few Coloring Options...
Full Black & White
= Everything must be in a black and white color scheme including your image
Black & White with Colored Image
= Everything must be in a black and white color scheme except your image - which you may color any way you want
You could also do
Black on Black with Colored Image
OR White on
White with colored image
too
Sepia
= Create a full Sepia colored card, including the images
OR
Sepia with image colored as you want or small pop of color (light pink, light blue etc)
How to play:
Just upload a creation that follows this week's challenge to your online blog or gallery. Then leave a link to your project in the linky widget at the bottom of this post. If you upload to online galleries, please also use the tag or keyword LRSBC78. Our challenge is open to everyone, you can use any stamps and products that you would like, and you can enter as many times as you want.
Deadline:
The linky entry widget will close at
9PM CST on Monday,
November 18th
so all entries need to be in before then.
Prize Information:
One lucky participant will be chosen using a random number generator will be able to proudly display our
Winner's Badge
on their blog!
We will have two different possibilities for a gift voucher prize from Loves Rubberstamps for the winner as well.
$10.00 - If the stamp used is from a company that we do not carry in our store
$20.00 - If the stamp used is from a company that we DO carry in our store
If you want to see what companies we carry visit our store
Loves Rubberstamps
The Winner will also receive a 3 Free Digi Stamps of Choice from Sweet 'N Sassy!
WINNER OF THIS WEEK'S CHALLENGE WILL BE ANNOUNCED WITH THE NEW CHALLENGE ON November 19th.