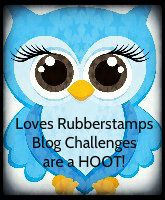 Hello and welcome to the Loves Rubberstamps Tuesday Challenge! Hope everyone is having a great week! I can't believe it is December already! Although my favorite holiday is Summer, my favorite holiday is Christmas! I just love the beautiful lights and festivities and just everything that comes with this beautiful celebration. I feel like having some peppermint hot chocolate right now in fact! :)
Well let me get on to our challenge for the week which is the favorite "Anything Goes"!!!
And yes I know, I decided to make yet another Prima Doll tag!!! This time I used the adorable "Riley" Prima Doll! This tag was so much fun because I decided to pretty much go all out with all the mixed media art material I own! The tag itself is from the Prima Doll Tag Pad. I coated it with some gesso and then dabbed on some medium sculpting paste on a fun stencil template by Crafter's workshop called "Mini Punchinella". I added a ton of fun embellishments including the Small Typo Bulbs, Typo Zipper Pulls and Natural Bark Butterflies all from Prima as well. I added a ton of flowers and then coated everything with more gesso. Now here was the fun part...I used my Lindy Stamp Gang Starburst sprays to add some beautiful shimmery color to the background. The gesso grabs all the color for such a pretty effect. The colors I used are "Golden Sleigh Bells", "Cotton Candy" and "Forget Me Not"...all are so pretty! I even used these on Riley's dress and pretty Wings! "Riley" went last on the tag after coloring up her hair and skin with my Copic markers. I went over her shoes with my atyouspica glitter pen in "Midnight". You can't really see the shimmer in the photos but guess there's plenty of that throughout the tag! :) I added some dainty lace to the bottom of her dress and some pearl flower trim to the middle. I also added another pretty lace tied in a bow to the top of the tag. This was tons of fun and I'm so excited with the way this came out!
Here are a few more photos...
I took these outside during the day to show how "sparkly" it came out! and to show more of the pretty colors!
Close up-Top
Close Up -Bottom
Other supplies used on my project:
Flowers-Wild Orchid Crafts/Recollections
Wooden flowers-Recollections
Please check out the
Loves Rubberstamps store
to see supplies used on my card. Also, check out the
Loves Rubberstamps Challenge blog
to see what other projects the rest of the Design Team made. If you want to join this fun challenge, I'll post the details below and you could have a chance to win some great prizes form the store!
Hope you all like my Prima doll canvas! Have a wonderful week and thanks so much for stopping by to visit! :)