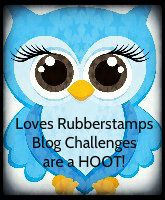 Hello Friends and welcome to The Loves Rubberstamps Tuesday Challenge! Hope you're all having a great week! We have a fun challenge today! I know most of us who make craft projects have some paper pads, right? Aren't there papers you have which just aren't your style or maybe you think they're just plain ugly?!! Lol Well you might want to use some of those papers by joining in our challenge this week! That's right, our theme is to

Use Your Ugly Papers

!!!
So most of you might know that I just love paper! There's a hint in the name of my blog...My Paperie Dreams! :) I have tons of it too and many of my favorites like G45 and Prima often stay in my hoard vault for quite some time! When making cards, I seem to look for certain designs and others I have trouble finding the perfect project or card to use them for. That's what made this challenge lots of fun for me. For my card, I used some patterns and colors I would not normally use. Not that I think they are actually ugly because it really is hard for me to find true "ugly" papers! LOL However, they aren't ones that I would normally reach for when making something. Let me start off with the cute image which is

My Guy Ian by The Greeting Farm. I knew this guy would make anything look adorable! I also have a few "guy" birthdays to make some cards for so I thought he would be perfect! Now for my papers, I did use a paper pad I really like which is called Powder Mountain by Bo Bunny. These papers are very pretty and perfect for many occasions. But I have to admit that there are a few sheets which have not been touched. As you an see, there is a background of some pine cones and also some darker patterns. Both are not papers I would have normally picked out. But I do think they turned out pretty cool with cute Ian. Plus this card is going to good friend who enjoys hiking and being outdoors so maybe he'll dig the pine cones! Lol I'm hoping he'll like this card and I hope you all do too! :)
Here are some additional supplies used on my card:
Please check out the Loves Rubberstamps store to see supplies used on my card. Also, check out the Loves Rubberstamps Challenge blog to see the other projects made by the design team. If you want to join this fun challenge, I'll post the details below and you could have a chance to win some great prizes from the store! Come join us and turn your "ugly" papers into some beautiful projects! :)
Hope you all like my card and have a wonderful week!
Clothes: B97, B95, B91, C3, C5, C7
This week's challenge is:
Show us your UGLY Papers!
How to play:
Just upload a creation that follows this week's challenge to your online blog or gallery. Then leave a link to your project in the linky widget at the bottom of this post. If you upload to online galleries, please also use the tag or keyword LRSBC95. Our challenge is open to everyone, you can use any stamps and products that you would like, and you can enter as many times as you want.
Deadline:
The linky entry widget will close at 9PM CST on Monday, March 31st so all entries need to be in before then.
Prize Information:
One lucky participant will be chosen using a random number generator will be able to proudly display our Winner's Badge on their blog!

We will have two different possibilities for a gift voucher prize from Loves Rubberstamps for the winner as well.



$10.00 - If the stamp used is from a company that we do not carry in our store





$20.00 - If the stamp used is from a company that we DO carry in our store



If you want to see what companies we carry visit our store
Loves Rubberstamps
The Winner will also receive their choice of Free Digi Stamp of choice
from Eureka Stamps!