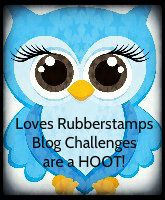 Hello and welcome to Loves Rubberstamps Tuesday Challenge!!! Happy Tuesday everyone and hope you are all having a fantastic week so far! I'm still trying to catch up on so many things since I was busy with my son, Ethan's birthday party this last Saturday and having family and friends in town all weekend. Although I'm a little sad to see the extended celebration end, I'm looking forward to things getting back to normal in our household. Here's a picture of the cute birthday boy! He had so much fun at his beach Monster's University party! :)
So on to our Challenge....This week's challenge is "Tall and Skinny". Make a card that fits in a standard business size envelope-Card will measure 4"x9".
This card features
"Garden Anya"
from The Greeting Farm. She is super adorable and perfect for many occasions! I wanted to keep this card pretty simple and not too dimensional as I plan to mail it out. The papers I used are from an older K & Company collection. I layered several papers together and edged them all with Pumice Stone. I also added the
The Greeting F
arm Tulip border behind cute Anya. Finally, I added some Kaiser Craft red rhinestones to finish off my card!
Other items used:
Please check out the
Loves Rubberstamps store
to see supplies used on my card. Also, check out the
Loves Rubberstamps Challenge blog
to see what other projects the rest of the Design Team made. If you want to join this fun challenge, I'll post the details below and you could have a chance to win some great prizes form the store.
Hope you all like my card for the week! Have a fantastic rest of the week and thanks so much for stopping by and for all of your kind comments!