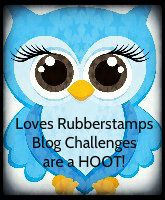 Hello and welcome to Loves Rubberstamps Tuesday Challenge! Today, our fun challenge is "Fancy Folds"!
Here is my card for you ...
I really love trying out new types of card folds so this challenge was a lot of fun for me. I love to watch You Tube Crafting vids and came across several for this "Double Gate Fold" card. What made this this type of card so tempting was that not only do they come out so adorable, they are super easy to make too!!! The image I used is called "Fancy Marci" by La La Land Crafts. She is one of my favorite Marci images and I had so much fun coloring her up with my Copic Markers. I added some stickles to the ruffle and ribbon on her dress and her hair bands to give her some sparkle. I also used a Dizzy Doily Die-Namics Die by MFT behind her and added a few embellies like twine and a layered flower. The fun papers I used are called Love Letters by Bo Bunny which is one of my favorite papers pads.
Here is a view of the card opened up. I created the belly band to wrap around the card so it doesn't pop out like below...
Here are some additional supplies used on my card:
Please check out the Loves Rubberstamps store to see supplies used on my project. Also, check out the Loves Rubberstamps Challenge blog to see the other projects made by the rest of the Design team. If you want to join this fun challenge, I'll post the details below and you could have a chance to win some great prizes from the store!
Hope you all like my card and thanks for stopping by!