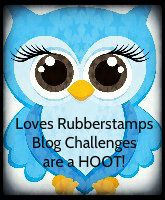 Hello Friends! We have a great challenge for you over at Loves Rubberstamps today! This challenge you get to have Fun With Your Name!
Take the Letters of your First Name and come up with an item to use on your project that starts with each letter
and here is my name with the items I used:
M - Marci Image
A - Adhesive
R - Red
C - Corner Cogs
Y - Yellow, Yours Truly Paper by Glitz
I had so much fun with this challenge and after figuring out I was going to use one of my favorite La La Land Craft "Marci" images, Top Hat Steampunk Marci for the "M" in my name, the rest came pretty easy to me! Of course I had to use the fun Steampunk Corner Dies and the Stitched Tabs Die Set of 3 for my sentiment. Both of these also are also from LLLC. The papers I used are called "Yours Truly" by Glitz Design. Gorgeous papers in this collection and I thought it went well with my theme. I also edged everything in my Pumice Stone Tim Holtz Distress Ink to give it that grungy steampunk look! :)
Here are some other supplies used on my card:
Please check out the Loves Rubberstamps store to see supplies used on my project. Also, check out the Loves Rubberstamps Challenge blog to see the other fun Name projects made by the DT! If you want to join this fun challenge, I'll post the details below and you could have a chance to win some great prizes from the store!
Hope you all like my card and have a wonderful week!