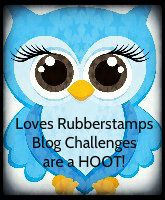 Hello and welcome to a new Loves Rubberstamps Challenge: Add Doodling!!! I hope you all had a nice Memorial Day weekend! It was pretty relaxing for us which was a good thing since I am still trying to recoup from colds. We also had a great family BBQ and it was nice to see family and catch up.
So before I show you my project, let me tell you about our sponsors!
This was definitely a challenge for me since I have never "Doodled" on my cards and I really don't like to see my own writing! LOL I don't even like journaling much because of this! But it was definitely fun once I got into it. The fun image I used is a Bugaboo digi called "Ava Birthday Balloons". I thought she was perfect for this challenge because a lot of this image really looks "doodled" to me already. After coloring her up with my Copic Markers, I doodled on the border of the card as you can probably tell and I also doodled a few hearts cute Ava's dress! That was a lot of fun! I also added some Stardust stickles by Ranger to the ribbon on her hair as well as the hearts. I kept this card pretty CAS because I wanted the doodling to stand out a bit more so I just added my finishing touches of some twine and sequins.
Here are some other supplies used on my card:
Please check out the Loves Rubberstamps store to see supplies used on my project. Also, check out the Loves Rubberstamps Challenge blog to see the other fun "Doodle" projects made by the DT! If you want to join this fun challenge, I'll post the details below and you could have a chance to win some great prizes from the store!
Hope you all like my card and have a wonderful week!