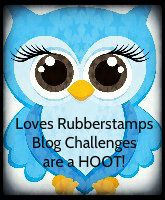 Happy Tuesday Blogger Friends! Hope Everyone is having a fantastic start to their weeks. My week is already starting out a little crazy both at work and at home and there's more to come this week too! I just hope I can survive it! I'd better get myself some energy drinks to keep up! LOL We've also had some pretty hot weather and I'm hoping there will be no more fires for us! I am looking forward to the summer and especially going to the beach. I just love the beach and it is a perfect getaway from all the stresses in life. If I can't make it to the beach, another good getaway is hiding out in my craft room making projects! Fortunately, I did have some time to do just that and wanted to share what I created with all of you for this challenge!
Before I share my card, I wanted to let you know that are wonderful sponsor is
Birdie Brown
!!!

The theme for this week is "May Flowers".
So I was really happy about having this challenge. I love using flowers on all of my projects and so this was just perfect for me. The image I used is the adorable "Retro Girl 1" by Birdie Brown. There are 2 other "Retro Girls" and they are all so super cute! I had fun coloring up this cute girl with my
copic markers
. The design papers I used are from a collection called
Cashmere Dame
by Glitz! This set of design papers are is so pretty. Using the DP, I handmade a banner which I stamped my sentiment "Smile" on it with Memento ink in
Black Tuxedo
. I edged my papers using my Tim Holtz distress ink in
Pumice Stone
. I have a doily you can barely see peeking out behind the flowers. The flowers are from Wild Orchid Crafts and I sprayed them up using my Tattered Angels Iridescent Gold to give them some shimmer. For my other embellishments, I added some red rhinestones from Recollections, a brown nylon butterfly and a white pearl string from my stash.
Please check out the
Loves Rubberstamps store
to see supplies used on my card. Also, check out the
Loves Rubberstamps Challenge blog
to see what other projects the rest of the Design Team made. If you want to join this fun challenge, I'll post the details below and you could have a chance to win some great prizes form the store.
Hope you all like my card for the week! Have a wonderful week and thanks so much for stopping by to visit! :)
This week's challenge is:




May Flowers!



Create a project that you are working on that involves stamps - And any flower will do, in the stamp image, making a flower, pre-made flowers, flowers on designer paper, well - you get the idea, lol.
How to play:
Just upload a creation that follows this week's challenge to your online blog or gallery. Then leave a link to your project in the linky widget at the bottom of this post. If you upload to online galleries, please also use the tag or keyword
LRSBC52
. Our challenge is open to everyone, you can use any stamps and products that you would like, and you can enter as many times as you want.
Deadline:
The linky entry widget will close at
9PM CST on Monday, May 20th
so all entries need to be in before then.
Prize Information:
One lucky participant will be chosen using a random number generator! They will be able to proudly display our
Winner's Badge
on their blog and they will also win the Loves Rubberstamps Gift Voucher as well as any prizes being offered by Guest Sponsors that week.
We will have two different possibilities for a gift voucher prize from Loves Rubberstamps for the winner as well.
$10.00 - If the stamp used is from a company that we do not carry in our store
$20.00 - If the stamp used is from a company that we DO carry in our store
If you want to see what companies we carry visit our store
Loves Rubberstamps
The Design Team members will also each choose their favorite card from this challenge and the winner's will be able to proudly display a special blog badge on their blog.
The Design Team favorite's from Challenge 52 - will be announced before the posting of Challenge 54.
** These Winners will receive a $5.00 gift voucher for use on an order $25.00 or more **
We will have a huge make up session for the Design Team favorites, I have lost my way in this and will need a night or two to catch up on those, lol. So sorry for the delay.
Guest Designer Information:


If you would like your chance of being our

JUNE

GUEST DESIGNER
just put
GDT behind your name
, or leave a comment stating you are interested!
Guest Designers receive a
20% discount
on most all items listed in our store during their term.
We will also provide a link to your blog for 1 year!!
Only rule is to use current images from stamp companies we carry in the store for your challenge projects and to have fun!
We will contact the winner the week of the May 21st with the announcement of the JUNE'S GUEST DESIGNER May 28th.
**
Be sure to Play Along in our -
Weekly Blog Candy Giveaway!

Just hop along with our Design Team in a Mini Blog Hop for the chance to win the hidden prize! Start the hop here on our
Sensational Sunday Inspirations
post
**
WINNER OF THIS WEEK'S CHALLENGE WILL BE ANNOUNCED WITH THE NEW CHALLENGE ON MAY 21st!!